This September, the TRIBE x Helen Bamber Foundation: Hike for Freedom project supported a group of seven inspirational female survivors of modern slavery and extreme human cruelty to tackle the UK's three highest peaks – Snowdon, Ben Nevis and Scafell Pike! This was a joint project organised by the TRIBE Freedom Foundation and the Helen Bamber Foundation (HBF). 
The team had an incredible time on the mountains and battled all the elements as they tackled the Three Peaks, from 60+ mph gusts on the route up Ben Nevis, which forced the team to turn around at the halfway point, to hail storms and torrential rain on Scafell Pike. It was a real test of teamwork and we are incredibly proud of the whole group who showed immeasurable strength, determination and resilience as they worked together to climb each mountain as a team.
The challenge was planned as part of the HBF integration programme and originally began as a monthly hiking group, empowering survivors of trafficking and extreme human cruelty to access the outdoors, enjoy walking together and take part in an adventure! Throughout the course of the year, a team of TRIBE volunteers supported the women on monthly training walks, from Box Hill to the South Downs and the Chilterns, helping them to build confidence, and ultimately develop the vital skills to support them to integrate into their community, and create the positive relationships necessary to live successful, independent and fulfilling lives.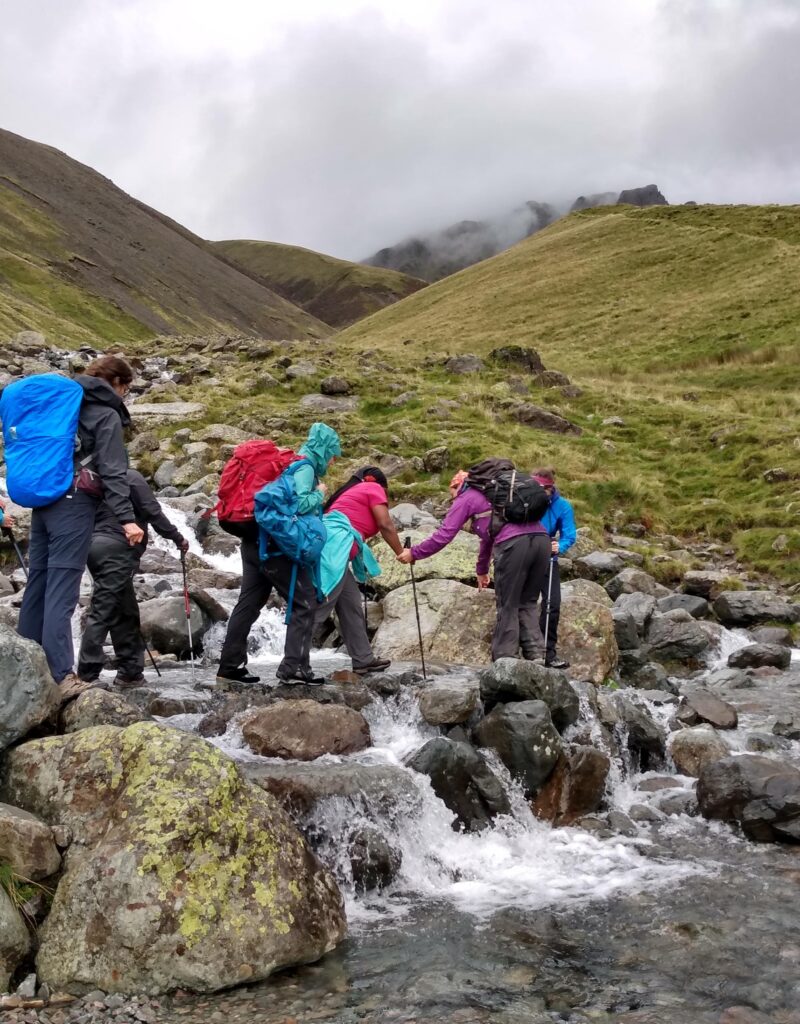 The women taking on the Hike for Freedom have widely varying backgrounds, from Albania, Vietnam, Iran, Pakistan, India, Côte d'Ivoire and Uganda. All of them have experience of extreme human cruelty whether torture or trafficking, such as forced prostitution, domestic slavery and forced labour. 
The HBF is a specialist UK human rights charity supporting refugees and asylum seekers who are the survivors of extreme human cruelty. They work directly with survivors. Recognising the complexity of each individual's experience and offering specialist services within a Model of Integrated Care encompassing: therapy, medical advice, legal protection, counter-trafficking support, housing and welfare and community and integration.
The network of support provided by the project is vital to the success of clients as, without positive supportive communities around them, survivors are extremely vulnerable to falling into or falling back into the cycle of exploitation. 
On completing the challenge, one of the survivors, Sarah*, said 'I think there is a reason why they called this 'Hike for Freedom' and this is it for me: It has helped me to find the freedom, the voice, the spirit and the positivity that I've been looking for… People have told me 'you can't do this', 'you can't achieve this', 'you're not this', 'you're not that', but after today, nobody will tell me 'you can't do this' or 'you can't achieve this'. This has topped it all for me. 
She went on to add, 'I've always been looking for things that I like doing, I like taking pictures but now this is on the record – I have become a professional hiker! I smashed it! I am so glad and happy that I was in the midst of all these beautiful women and souls because the whole team has been really really supportive of us all and you know we are very grateful.'
The group has already had a transformative effect on the women involved, many of whom experience symptoms of Post-Traumatic Stress Disorder, which causes survivors to repeatedly re-experience traumatic events through excruciating flashbacks and nightmares and suffer debilitating panic attacks, extreme depression, anxiety and despair. Exercise is well established as an effective treatment for people suffering from depression. Evidence now indicates that it may also be helpful for people recovering from trauma including those diagnosed with PTSD. 
Elise Aitchison (TRIBE Freedom Foundation Trustee and team Doctor) said, "It's been incredibly moving and inspiring to support these survivors to take on this incredible feat of endurance; they have battled torrential rain in Ben Nevis and relentless gusty winds up Scafell to reach their summit. TRIBE Freedom Foundation is all about supporting victims of trafficking to rebuild their lives and, for these women, this is the start of a long journey to refinding their confidence and self-esteem after unimaginable pain."
"You're free like a bird. When I climb the mountain I feel like everything that I have gone through has ended. Everything about my life is going to be ok. The mountain makes me feel free, it gives me freedom." Hike for Freedom Participant
To learn more about the work we are doing to support survivors of modern slavery and increase awareness of slavery across communities, sign up to our newsletter below.