Yesterday evening, the TRIBE community came together for a roundup on the Foundation's work this year and a discussion to kick off planning for Run for Love III.
We heard from each of the TRIBE Freedom Foundation's 2018 charity project partners, Lara Bundock (CEO at Snowdrop), Emily Chalke (Founder & Project Lead at Ella's Home) and Carrie Brassley (Partnerships at Unseen) on the impact they are having in their work to help end modern slavery as well as members from the TRIBE community on their proposed routes for Run for Love III.
The Foundation takes a lot of pride in really getting to know what our project partners are working on, how they are making an impact and how your fundraising will make a difference. The event highlighted some of the headline stories from the TRIBE Freedom Foundation H1 Charity Project Partnership Report, an internal report which forms the basis for our monitoring and evaluation of the first half of the year. It is clear from this report and from our ongoing communications with each of our project partners that all three project partners are having an incredible impact.
Working with TRIBE Freedom Foundation, between January-June 2018, our phenomenal Project Partners (at Unseen, Snowdrop and Ella's Home) have:
Supported 125 survivors of modern slavery to begin rebuilding their lives following exploitation. Including: 12 men and 12 women at Unseen's safe houses; five residents and 19 outreach clients at Ella's Home; 77 survivors at Snowdrop.
Identified more than 415 cases of modern slavery and over 2,105 victims of modern slavery. These cases resulted in over 758 Referrals and Signposts by the Unseen Modern Slavery Helpline to Law Enforcement Bodies, Local Authorities, NGOs or other agencies. Ensuring that victims are supported to access necessary services and the perpetrators of slavery are made accountable.*
* These figures are based on the Q1 data for the Unseen Modern Slavery Helpline as the Q2 data is still being processed. In reality, the figure will be much greater.
Delivered a special project to establish the TRIBE x Unseen Gym for the survivors of modern slavery, to help improve wellbeing and aid recovery. The House Manager at the Men's Safe House has reported:
'It is working really well, as well as at making our residents more active, for opening up conversations about well-being, self-care, nutrition, and hydration. These are all key areas for [Unseen's] client group'.
Inspired two survivors of slavery to take up running after a new cross trainer was installed at Ella's Home, sourced following the TRIBE x Unseen Gym Project, and the TRIBE 10% Project Hackney Half Marathon Campaign. This led one resident at Ella's Home to complete the Virgin Sport London 10K!
It was great to have so many people who have supported the Foundation and our project partners at the event to represent the hundreds of fundraisers, everyday athletes and adventurers who have been raising money and awareness for their work this year!!
It was especially inspiring for everyone thinking about joining the team for Run for Love III. Following the Run for Love presentations by Tom, Rob, Guy (TRIBE Founders) and Julian (RFL II Legend!) we are so excited to start working on a plan and we would love to get as many people involved from the start.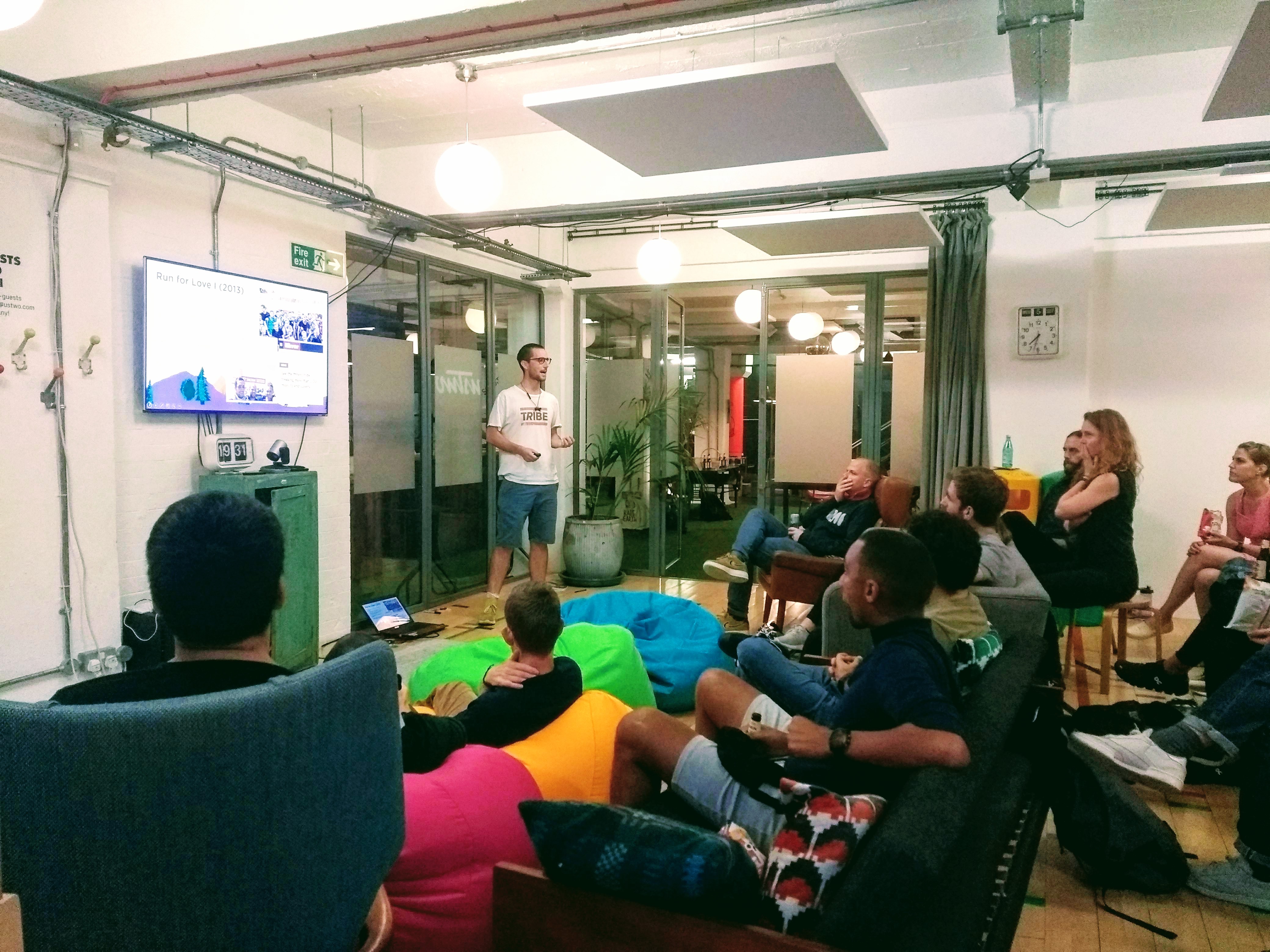 We are looking for 8 – 10 people to get fully involved in the planning and preparations for Run for Love III across the Routes and Logistics, PR and Media, Fundraising and Events.
If you would like to apply email Tom (tom@wearetribe.co) with 100 words describing your area(s) of expertise and why you're keen to get involved.
Together, we go further and faster to end modern slavery!!
Let's do this.