Modern slavery is taking place across the UK. In fact, in 2017, 5,145 potential victims were submitted to the National Referral Mechanism (the official channel for the identification of UK modern slavery victims); a 35% increase on 2016.
According to the NCA 2017 End of Year Summary, the most common exploitation type recorded for potential victims exploited as adults and minors was labour exploitation. This includes: undertaking unskilled labour such as agricultural work, construction work, car washing or laying driveways.
Last November, Unseen produced an initial assessment of calls made into the UK-wide Modern Slavery Helpline and Resource Centre, identifying modern slavery in car washes as one of the most commonly reported cases to the Helpline.
Between 10 October 2016 and 31 August 2017, the Helpline received 88 calls and 54 web reports relating to suspicious car washes, culminating in 112 modern slavery cases.

From the 112 modern slavery cases in car washes, 692 potential victims were indicated, which equates to an average of 6.2 potential victims per case.
Now, Unseen has developed an app, The Unseen App, to allow the general public to engage with the problem. The App provides a simple guide to recognising the signs of modern slavery and reporting concerns in confidence to free more victims of slavery. The app was developed for Unseen by the Helpline's founding partner BT and can be found by searching 'Unseen UK' in app stores now.
Andrew Wallis, CEO of Unseen:
"Traffickers are using ever-more sophisticated technology to control and exploit their victims. It is crucial that those of us combating modern slavery must innovate too. Whether that is technology for businesses to map their supply chains, or an app for everyone to have in their pocket at the nail bar, car wash or takeaway, this isn't just a gimmick, it's an essential part of the fight to eradicate slavery."
In January 2018, TRIBE Freedom Foundation supported the Unseen with a grant of £80,000. Funding was used to develop the Unseen Modern Slavery Helpline and this new app provides an important extension of the Helpline to help improve identification.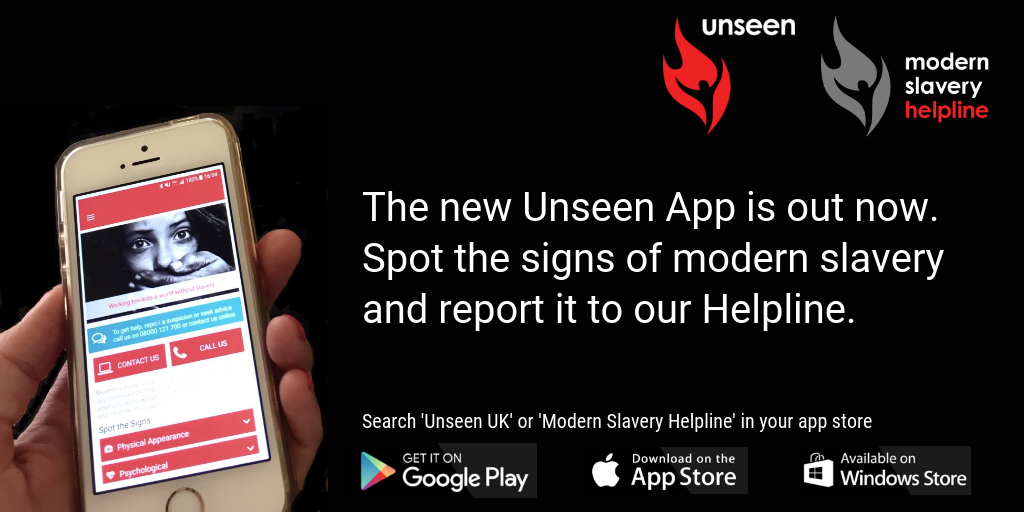 Download the app here (Windows) (iTunes) (Google Play). Read more from the Unseen here.
For more information on the definitions and indicators of modern slavery see the latest publication from the Anti Slavery London Working Group OR head to the Unseen website here.
To report an incident, Phone the Police 24/7, 999 for emergencies, 101 for non-emergencies, or the Modern Slavery Helpline 08000 121 700.